Our mission is to preserve and honor the legacy of golfing pioneer Theodore "Ted" Rhodes.
Ted Rhodes' vision was to make the game of golf open to all races. The Foundation is honoring his vision by advancing future generations of minority golfers by hosting educational events, golf clinics, and golf tournaments for youth and adults. Also, we provide financial support to Historically Black Colleges and Universities (HBCU) golf teams and golf team members to help further this mission. We also partner with local urban youth golf programs. Our youth initiatives are part of our Future Golfers of America "Growing the Champions of Tomorrow" Program.
A message from Ted Rhodes' daughter, Peggy Rhodes-White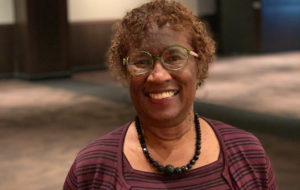 My father was a skilled golfer, who was introduced to the game of golf when he was 12-years-old by caddying at the country clubs in Nashville, Tenn. Although African-Americans were not allowed to play at these courses due to segregation, being a caddy inspired my dad to learn to play golf. He made his first set of golf clubs out of clothes hangers and used a discarded 2-iron club to hit balls at the old Sunset Park. Due to his determination, he eventually found a golf course where he was able to play a few holes. And that's how it all started, with homemade clubs, God-given talent, an open park and a whole lot of determination.
It's hard to believe that with such a meager start, he would eventually go on to become a golf legend, teaching and playing with such greats as Lee Elder, Althea Gibson and Joe Louis, and yet falling just short of breaking the color barriers then at play in the PGA. What I do know, is that my father paved the way for so many African-Americans and minorities by his style, spirit and determination that even today his legacy lives as in the words of Tiger Woods, Ted Rhodes was one who "…made it possible for me to play."
I can think of no better way of preserving my dad's legacy than by helping advance the game of golf for other young minority players. Knowing how important it is for youth to have access to the possibilities that the game can afford, the Ted Rhodes Foundation seeks to both preserve the Ted Rhodes legacy, while supporting programs to help minority youth and future generations of players.
I hope you will consider contributing to the Ted Rhodes Foundation and helping us preserve my father's legacy and ultimately continue to preserve and advance the game of golf for all players.
Sincerely,
Peggy Rhodes-White, DTM and GTAA Certified Golf Tournament Consultant and Planner
Founder and CEO, Ted Rhodes Foundation, Inc.
Ted Rhodes Foundation, Inc. Programs